Irrigation Services
Commercial & Residential Irrigation Installation
Do you need to get your sprinkler system started for the year, or do you need to get it winterized before the cold of winter sets in?
Or do you have a broken sprinkler head or a leaking valve or pipe somewhere?
Or is everything working properly, but your lawn still isn't showing improvement from that new system you put in?
Our service crews can assist you with these issues. We can also trouble shoot faulty pumps and shallow wells to increase water volume and pressure. Also, if you are looking to add a head or zone, or updating a manual system to an automatic one, we look forward to serving you. Let Shulfer's Sprinklers & Landscaping take care of any of your irrigation service needs. It doesn't matter if you have Hunter, Rainbird, Toro, Nelson, or Orbit sprinkler heads, our service crews are knowledgeable and experienced with all brands and makes of sprinkler heads in order to get your system up and running again.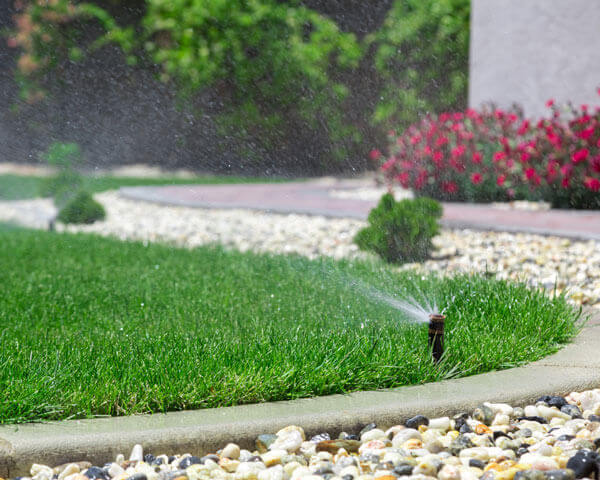 ---
Sprinklers and Irrigation
It's Where Our Roots Are
Before we were anything else, we were a sprinkler installation company. Like all aspects of our company we take great pride in the systems we install. Irrigation is very important to us. Water is also very important to the roots of your landscape, since even a natural and native landscape requires water at various times of the year. Water is such a valuable resource that should be used wisely and efficiently. That is why Shulfer's Sprinklers & Landscaping installs our systems differently than anyone else in the area and uses the highest quality products.
Hunter Irrigation - The Best
At Shulfer's Sprinklers & Landscaping we use Hunter irrigation products. We have found from our years of experience that the Hunter products are constructed in a more durable fashion with high quality components. When you combine this durability with Hunter's 5 year warranty you can rest assured that you will have a high quality system with years of trouble free service. Another benefit of the Hunter products are the water saving technology and features they have that are leading the industry. However, if you do have an existing irrigation system with something other than Hunter, our knowledgeable and experienced staff can service all brands of sprinkler heads.