Landscape Design
Planting Beds
Do you have a certain style or flair? Are you looking to enhance a view or establish some screening? Let our designers at Shulfer's Sprinklers & Landscaping design your dream landscape. Whether you are looking for a manicured formal garden, Victorian landscape, a casual country setting or anything in between, our knowledgeable and experienced designers will implement your wishes and needs with our thoughts and ideas to develop your landscape that will bring you years of enjoyment. With proper placement and planting combinations in our designs, our quality plants will provide you year round interest and color.
Wondering how to care for your new landscape? We provide you with literature and instructions on proper watering, fertilizing and pruning to ensure that the quality plantings installed will continue to bring you years of beauty and enjoyment.
---
Rock, Stone and Brick Landscape Paving for Outdoor Living
Are you tired of plain concrete that cracks, the maintenance of a deck, or wooden timber walls that rot away? Shulfer's Sprinklers & Landscaping installs a variety of brick pavers, natural stone and retaining wall block to meet the needs of your landscape and give you the look you desire. We can install that inviting front walkway, hold back that sloping hillside or create the outdoor sanctuary of your dreams.
Hardscapes Designed and Installed
At Shulfer's Sprinklers & Landscaping, we take great pride in designing and installing walkways, patios, fire pits and retaining walls that are beautiful, last for years and require very little maintenance. Quality products and proper installation ensures that our patios and walkways will not heave and feel like a rollercoaster as you walk across, and our retaining walls will stand the test of time.
WMCA 2011 Award Winners
Shulfer's is the Wisconsin Concrete Masonry Association (WCMA) 2011 Excellence in Hardscapes Silver Award winner for Best Patio Application Over 1,000 Square Feet. The WCMA is the oldest masonry association in the United States. Their annual Excellence in Hardscapes competition honors the absolute best in Wisconsin- and this year, that includes Shulfer's Sprinklers & Landscaping.
Not Just Patios - Your Outdoor Kitchen, Bar or Hearth
Outdoor living and entertaining has taken on a new look. The times of being limited to a wooden or composite deck are long gone. Let Shulfer's Sprinklers & Landscaping create a raised patio or outdoor living space that has endless possibilities and options. Outdoor bar areas, kitchens, beautiful fireplaces and firepits and amazing seat walls and columns will create the atmosphere you desire and draw your family and friends outside to enjoy the outdoors.
---
Waterfalls, Ponds and Fountains
Whether it's the look of a shimmering pond, the babble of a stream or the bubbling of a fountain, water features create that element in the landscape that nothing else compares to. The looks and sounds of water can relax the mind and body after a long day at work, provide for wildlife and create learning possibilities for children. Whether it's a fish pond with plants, a pondless waterfall or a bubbling boulder fountain, there is a water feature available to meet your needs and maintenance requirements. Let Shulfer's Sprinklers & Landscaping create the water oasis that fits your lifestyle.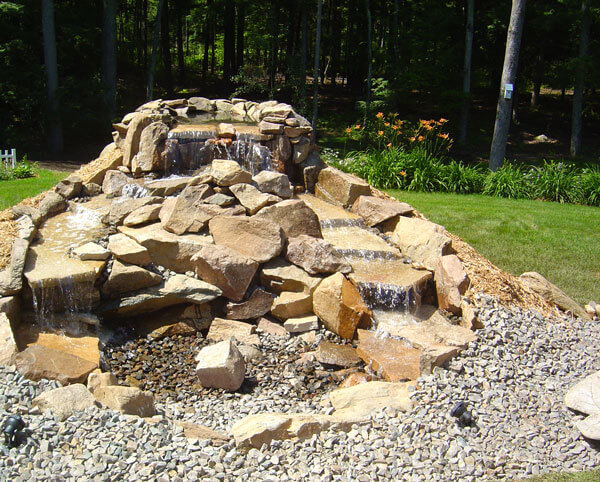 ---
Landscape Lighting
Don't limit the beauty and enjoyment of your landscaping just to the daylight hours. Shulfer's Sprinklers & Landscaping can design and install low voltage outdoor lighting that will give off a soft glow and allow you to enjoy your landscaping and the outdoors after the sun has gone down. Outdoor lighting can create shadow effects that will enhance your night time landscaping views and create looks that are completely different than the daytime with a combination of up lighting, down lighting, and path lights. Patios can be illuminated to create a relaxing atmosphere and mood. Security can also be enhanced by illuminating potential tripping hazards and deterring burglars with a well lit landscape.